Our pure Extra Virgin Olive Oil "THESEUS" is produced by the olive trees located in Troezen (Trizina), motherland of the homonymous (with the brand name of the company) King of Ancient Greek Mythology. The fertile land of Theseus, in combination with the suitable climate of the area, is cultivated since 1922 until today with the same vigor, passion and dedication by the Katsigkras Family.
A few words about Theseus
Theseus was a dual nature creature: a human part and a divine one. His human part (from his mortal mother, Aethra), helps him to approach people and understand them easily. His father's divine part (God Neptune) pushes him to use his supernatural skills for mankind's benefit (benefit to people's health).
Theseus was a great fan of Hercules. When he became an adult, Aethra showed him the rock that his mortal father Aegeus (King of Athens) had left his sword and his sandals. He lifted the rock with his strong hands, grabbed the gifts of his father and began the way to Athens and his father, Aegeus.
His Med Diet routine, including Organic EVOO from his olive groves and combined with daily tough training, provided him great physique, body shape and strength. On his way to Athens he managed to pass through many tasks and to deal successfully with villains, thieves and even wild animals, which terrorized and killed people. His greatest accomplishment was n Crete, where he beat Minotaur in his own Labyrinth.
Theseus was marked as the greatest Mythical Hero of Athens. He was endowed with power, bravery and great intelligence, which had always been put at the service of the people, fact that meant freedom for the Athenians. He was a civilization hero who rebuilt cities, made laws, instituted sacred sporting games and organized the first social system. He was always protecting his friend's health. Heroism is, knowing how to identify and separate friends from enemies.
His fluid heritage, Theseus EVOO, is here to follow the same path and provide people globally all of his pure and unique characteristics.
Theseus Brand & Logo illustration
Everyone is wondering where Theseus Brand Logo comes from. The answer is hidden in a bronze coin, which was found in Troezen during excavations, was used in trading at between 2nd and 3rd century A.D. and in which Theseus is depicted lifting a rock. This rock is the one he lifted with his own strong hands, underneath of which he found the sword and the sandals his mortal father Aegeus (King of Athens) had left him, beginning his way to Athens and his father.
A healthy outside starts from the inside

Our Story
B.C.
1922
2013-2018
2019
2020
Ancient times, Mythology, Theseus – The Mythical Κing and founder-hero of Athens
The legendary lands of the ancient King Theseus passed into the ownership of Katsigkras' family
Study period of the founder, Athanasios Katsigkras. University of Thessaly, Department of Agriculture Crop Production and Rural Environment
The idea of establishing THESEUS EVOO was born, for the standardization and promotion of the olive oil and the emergence of natural wealth of the land of Trizina
The idea came into action with lots of passion and love for what we do
Hazard Analysis and Critical Control Points
The production of THESEUS Extra Virgin Olive Oil has complied with the HACCP Food Management System.
We produce products of high quality and nutritional value:
Only natural ingredients, without the use of artificial additives and preservatives
Excellent storage in stainless steel tanks connected with bottled nitrogen
We support the development of a global network of partners and suppliers based on common love for the Mediterranean diet and authentic Greek high quality products.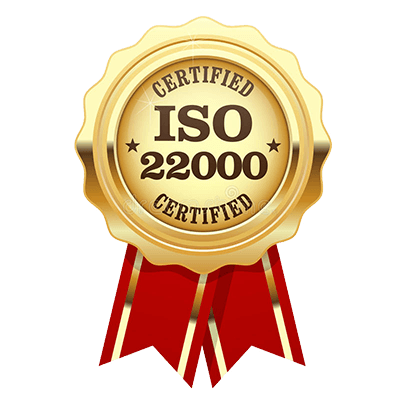 International Organization for Standardization
Our company Theseus EVOO complies with all the specifications of the ISO 22000 Food Safety Management System, which is an international standard and defines the requirements of a food safety management system. It ensures that food is safe at the time of human consumption, combining the principles of HACCP (Hazard Analysis Critical Control Point) and offers the following important benefits for our business:
Documentation of compliance with relevant national and Community legislation
Harmonization with commonly accepted food production practices
Reduces failures and identifies wrong practices
Readiness of the company in dealing with food crises
Consumer's sense of security for the company's products
Continuous improvement of the business
Competitive advantage in the market
Theseus EVOO fully complies with ISO 9001!
This Standard Quality System is based on a number of quality management principles including:
Strong customer focus
Motivation and implication of top management
Process approach and
Continual improvement
Using ISO 9001 helps us to ensure that our customers get consistent, good-quality products and services, which in turn brings many business benefits.
Our goal is to provide high quality products, through research and innovation.
We are investing in the Certification of Theseus EVOO products for your safety!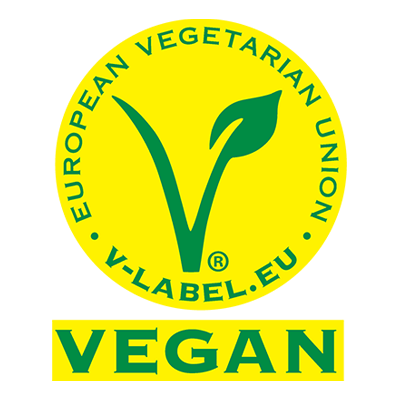 Vegan Certification
The V-Label is an internationally recognised, registered symbol for labelling vegan and vegetarian products and services. For consumers, it is a simple and reliable guide to help them when they are shopping. With the Vegan Certification (V-Label), our company promotes transparency and clarity.
The European Vegetarian Union (EVU) is the initiator of the V-Label. The EVU is an umbrella organisation for numerous European organisations active in the field of veganism and vegetarianism and aims to promote collaboration among them.
Website : www.v-label.eu